Athermal AWG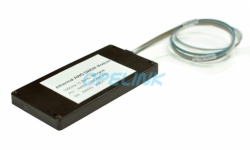 Type: Gaussian or Flat-top
Materials: AWG chip
Function: to devide wavelength over 40channels
Brand Name: OPELINK

Product Details
Athermal AWG
OPELINK Athermal AWG DWDM module is made using silicon planar technic. It adopts non-hear sensitive structure, eliminating the need for chip temperature control. The AWG DWDM module is RoHS compliant and meets GR-1221-CORE requirement.This Product is of compact design, low insert ion loss, low PDL, and high channel isolation

Applications:
It' s used in DWDM system transmission, Metro Area Networks, Long-haul Networks, PON Networks. It' s also applied to building blocks for ROADM, and building blocks for VMUX.

OPELINK is Athermal AWG DWDM module manufacturer in China. We offer AWG DWDM module, media convertor module, variable optical attenuator, we supply high quality with competitive price. Full chain of manufacturing, optical circulator, optical fiber adaptor can be completed in our company. More details are shown in the page with description.
Related Products